Thermaltake Announces the Worldwide Availability of ARGENT P900 Smart Gaming Desk, Designed by STUDIO F. A. PORSCHE
A Gaming Desk That's Smarter Than You Think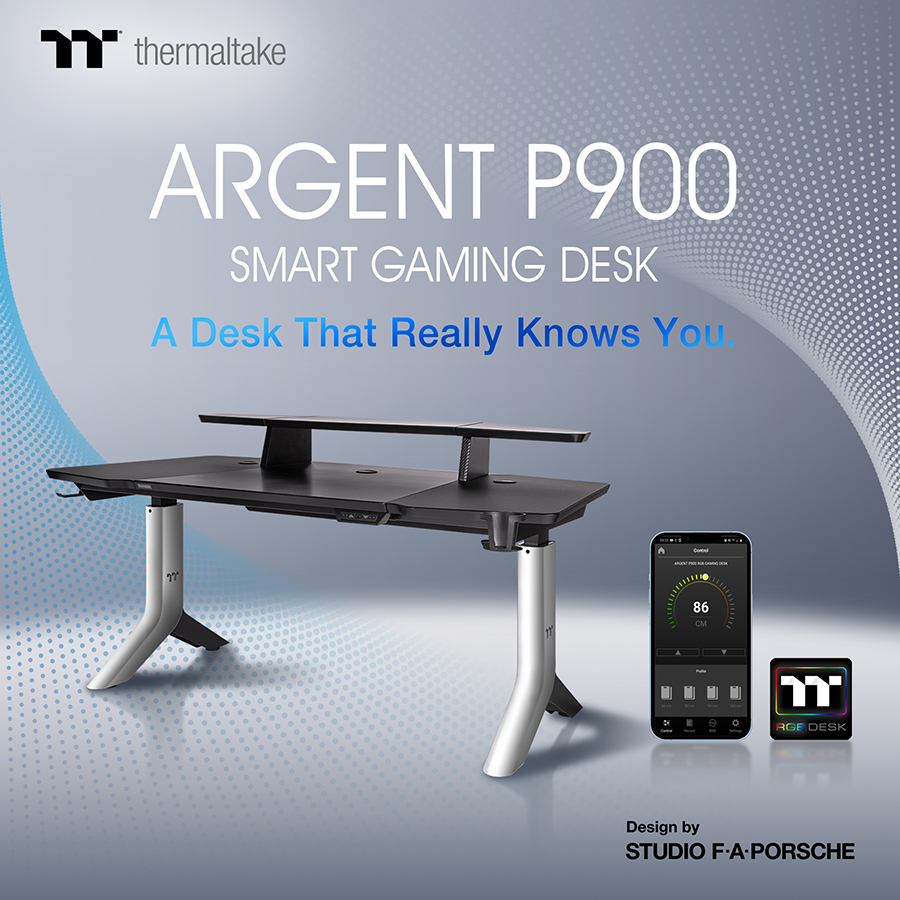 Thermaltake, the leading PC DIY premium brand for Case, Power, Cooling, Gaming peripherals, and enthusiast Memory solutions, introduces the ARGENT P900 Smart Gaming Desk, a smart, individual, and unique gaming desk designed with STUDIO F. A. PORSCHE. The ARGENT P900 Smart Gaming Desk is vastly different from what's currently on the market. Not only has it got a wide array of smart features you can utilize to dramatically boost your efficiency in everyday tasks, but it has sophisticated and ergonomic design aesthetics you can behold and appreciate every time you lay your eyes on it. Let's have a closer look at why this will be a perfect desk for your setup.
Designed with STUDIO F. A. PORSCHE, the ARGENT P900 Smart Gaming Desk is feature-packed, ultra high-quality, and will change the way you game and work for the better. To kick off, the ARGENT P900 features a built-in control unit and RGB Desk Mobile App, the exclusive app developed for the ARGENT P900, allowing desk heights and RGB lighting effects to be easily tweaked to your satisfaction. As you get to have control over the desk on your phone or PC via WiFi without unpleasant connection issues, it opens the door for you to redefine what a smart desk can be.
By default, you get to remotely switch between 4 preset desk-height profiles (70cm,80cm,90cm,100cm). Plus, through the powerful MCU built into the control unit, RGB Desk Mobile App will also record your desk settings and usage habits, and automatically adjust your desk exactly the way you like it. For instance, you can swiftly set the desk height from 70~100cm (27.5″ ~ 39.37") and intuitively tweak your RGB lighting effects. Plus, a personalized experience can also be easily achieved through the iTake software on your PC with minimal effort required. On top of that, the built-in smart panel on the desk is undoubtedly a game-changer when it comes to customization. With a push of a button, you can switch between 4 desk-height presets you've programmed to your needs. On the other hand, compared with traditional height-adjustable desks, ARGENT P900 heavily emphasizes safety. The anti-collision safety sensor will stop the instant it touches unwanted objects. With RGB Desk Mobile App and a powerful MCU built into the control unit, the Thermaltake ARGENT P900 Smart Gaming Desk is a desk tailor-made to cater to every single one of your individual use case scenarios. To put it simply, the ARGENT P900 is a gaming desk that's smarter than you think.
At Thermaltake, we take pride in providing consumers with only quality and aesthetically pleasing products, and the ARGENT P900 will even exceed your expectation when it comes to its smart features, designs, functionality, and versatility. First of all, to elevate the overall aesthetics and feel of the ARGENT P900, the entire surface simulates the texture of carbon fiber. It also has the all-new second space, which is ideal for the dual-monitor setup and lets you position your monitor in an ergonomic way. RGB lighting strip can be tweaked depending on where your mood takes you. Furthermore, the neat cable management system, headset hanger, and cup holder are just icing on the cake, making it perfectly multi-functional and user-friendly.
With smart features, elegant aesthetics, high-quality materials, and, last but not least, the sophisticated design by STUDIO F. A. PORSCHE, the ARGENT P900 Smart Gaming Desk is the next-generation desk made to be a perfect companion for you.
Features of the ARGENT P900 Smart Gaming Desk:
Designed with Studio F.A. Porsche
In collaboration with Studio F.A. Porsche, the ARGENT P900 is built to provide the best experience in the package of sleek, premium, and ergonomic design.
TT Smart Control Unit
Powered by TT Smart Control Unit, the ARGENT P900 is not just a desk but smarter than you think. Now, controlling your desk directly on your phone or PC via WiFi can be easily achieved. On top of that, the powerful MCU built into the TT Smart Control Unit will remember your desk settings and usage habits, and adjust the desk for you accordingly.
Exclusive RGB Desk Mobile App
Through RGB Desk Mobile APP, desk height can smoothly be set from 70 cm to 100 cm and switched between 4 levels of programmable desk heights. (70cm,80cm,90cm,100cm) Besides, your settings will be recorded, and adjusted your desk height according to your schedule. On top of that, eight different lighting effects, five brightness levels, and lighting speed can all be tweaked until you're satisfied.
iTAKE Engine Software
With iTAKE Engine Software, you can easily set the desk height from 70 cm to 100 cm (27.3″ to 39*.37"). To take things one step further, you can choose between 8 different lighting effect settings with 5 brightness levels and lighting speed.
RGB Lighting Strip & Intuitive RGB Lighting Control
The ARGENT P900 Smart Gaming Desk comes with an RGB Lighting Strip. The ARGENT P900 lighting strip is at the rear of the desk and RGB lighting is projected onto the wall, showcasing perky RGB lighting. Customize, control, and sync lighting effects via the Thermaltake RGB desk mobile app or iTAKE engine software.
Anti-collision Safety Sensor
For your safety, we've included an anti-collision safety sensor to automatically detect when the desk encounters obstacles while elevating your gaming desk. No more injury or accident when sitting in front of ARGENT P900.
6-button Smart Controller Panel
The ARGENT P900 has a 6-button smart controller panel for easy operations and a digital display board that shows accurate desk height information. It can set up to 4 height memory settings, so users can store and conveniently switch to their desired height setting with a push of a button.
Subtle Patterned Surface & All-New Second Space
The carbon fiber surface texture enhances the overall looks and feels, while the second space allows you to position your monitor ergonomically and is roomy enough for a multi-monitor setup.
Cable Management System
A cable management system makes it incredibly easy to sort out your cables and keeps your workspace clutter-free.
Headset Hanger & Cup Holder Design
The headset hanger on the left and the cup holder on the right are included for your convenience.