Sabrent Tech Status Report – On the road to 14,000 MB/s

In the last few months, there has been a wealth of new systems that all have Gen 5 SSD capabilities. A few companies have even released Gen 5 SSDs rating in the 10,000 MB/s range.
At Sabrent, we have been working very hard to bring this new product to market while working extremely closely with Phison to develop our new line of Gen 5 SSDs to push the boundaries to 14,000 MB/s.
There have been many challenges to overcome with these new products to meet our strict requirements for new drives to enter our lineup of high-quality products. We have been working to make the best Gen 5 SSD possible to improve system performance and user experience.
This newsletter serves as an update on the work Sabrent has been doing in the lab, working with Phison to bring user experience to the best possible solution to the market we can.
Here we have our new Sabrent Rocket X5 Gen 5 SSD being tested to our specifications.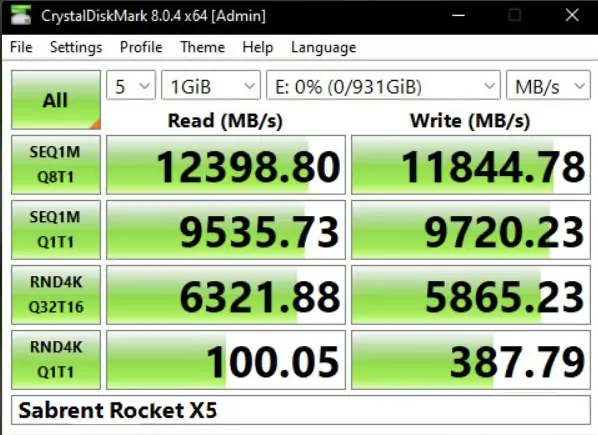 This news release will showcase examples of what we have come up with to demonstrate our commitment to bringing the highest quality and top performers to the marketplace.
There is no doubt that many have seen Phison Tech Demo sample results that were sent out by Phison. We aim to improve that and increase the performance as high as possible. At this stage, we have passed 12,000 MB/s with the technology available.
Below we'd like to show a sample of what we are able to achieve with the Technology Demo we present to you today.
With our CrystalDiskMark testing runs, we have broken records that top the charts. Over 12,000 MB/s in both Seq Read and almost 12,000 MB/s Seq Writes numbers to drool over. Technology is limiting us at this point to reaching the 14,000 MB/s goal, but we suspect that will come at a later point.
The new Rocket X5 is still in the tunning process, and we expect performance to improve even better. This still needs to be a finished product, but we are moving forward with the tech we have at hand now. To name a few items, many things can change, including the name and label. As we work with Phison very closely, new tech is on the way, and Phison assists us in pushing what we have now to achieve groundbreaking results.
Stay tuned to Sabrent for news on our other top-performing products as we approach the release. Our test lab is very busy these days with many new groundbreaking products we will release soon.