THE NEXT PLAYGROUND – REFRAMED
Tune into MSI's latest 2022 online virtual product launch event: THE NEXT PLAYGROUND – REFRAMED. This event will be packed with MSI's latest products and most advanced technologies. To recap on everything we went over during the event, read on.
MSI Presents the Newest 13th Gen Gaming Desktop Lineup
Together with Intel, world-leading gaming hardware brand MSI launches the all-new gaming desktops that are equipped with 13th Gen Intel® Core™ Processors. The 13th Gen Intel® Core™ processors have up to 24 cores and 32 threads to bring about the best gaming experience with their powerful performance. MSI has a variety of gaming desktops to satisfy players with different preferences. MSI's MEG Series continues to introduce high-end models with MSI exclusive features for gamers that like to try new and unique functions. The classic looking MPG Infinite X2 and Codex Series and compact sized MPG Trident 3 and MPG Trident AS also incorporated the 13th Gen Intel® Core™ processors performance. In addition to the performance improvement brought by the latest 13th Gen Intel® Core™ processors, MSI also added a variety of unique features and innovative designs.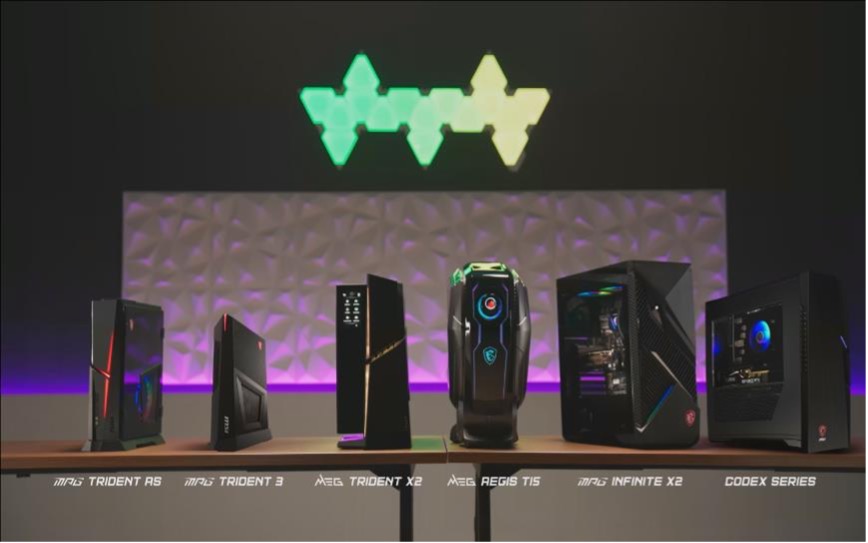 Leading performance and MSI exclusive HMI 2.0 features
In addition to the MEG Series having 13th Gen Intel® Core™ i9 processors and the NVIDIA® GeForce RTX® 40 Series graphics cards, the MEG Series' exclusive HMI (Human Machine Interface) function also enjoys a major upgrade. Combined with the GI function of the MSI gaming screen, a brand new HMI 2.0 is here. First equipped to the MEG Aegis TI5, the 4.5" IPS touch panel can now be found on MSI's new flagship model MEG Trident X2 as well for more intuitive controls.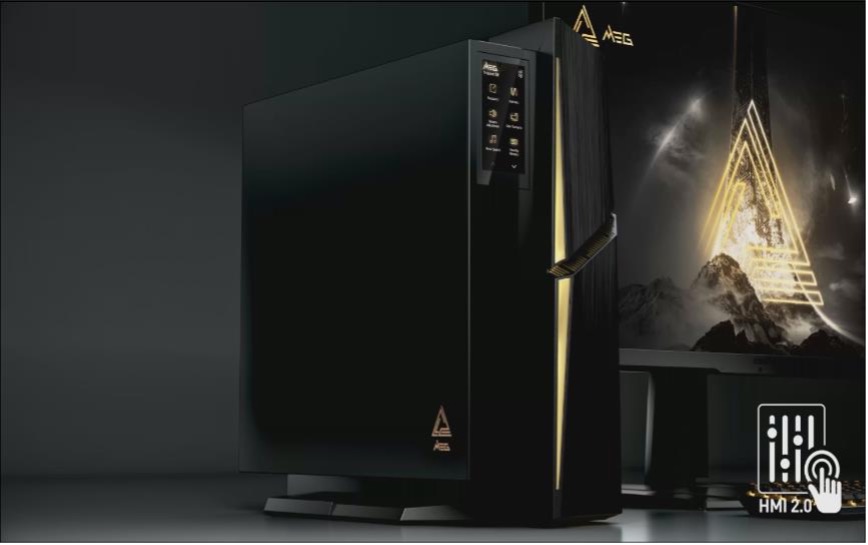 In anticipation of components' increase in performance, the MEG Trident X2 has a unique Air Baffle, Silent Storm Cooling 3, and a 280 mm liquid cooler to keep temperature and noise low to provide gamers with the best gaming experience.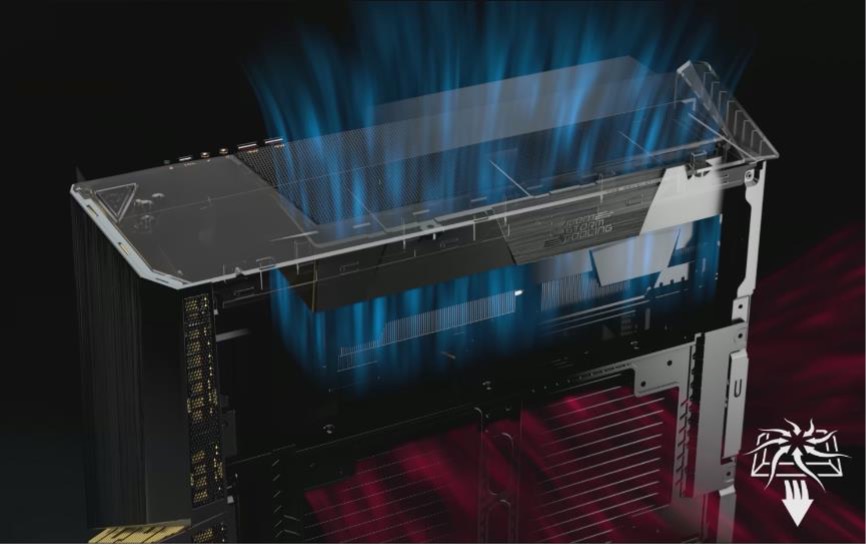 Additionally, the latest ATX 3.0 compliant power supply is adopted to support the NVIDIA® GeForce RTX® 40 Series graphics cards, providing a more stable power supply for the system.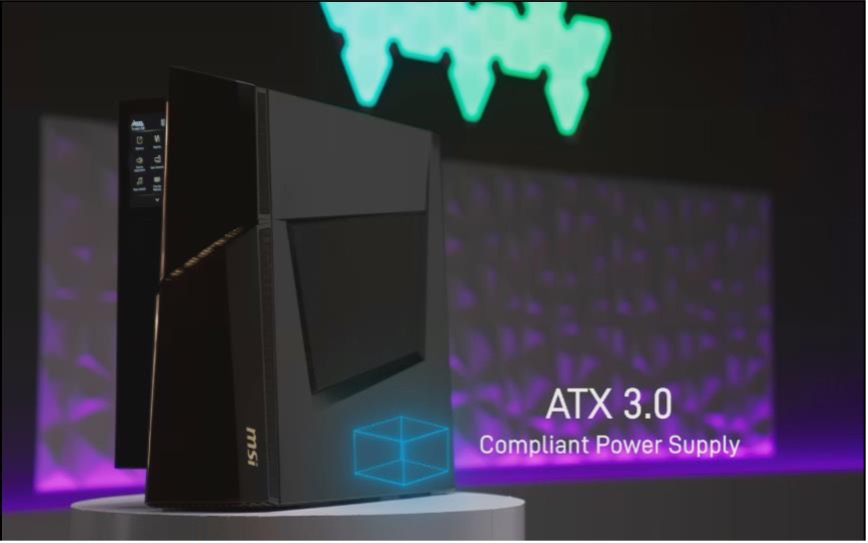 New Looks with Focus On Upgradability
The newly designed MPG Infinite X2 is also equipped with 13th Gen Intel® Core™ processors, the NVIDIA® GeForce RTX® 40 Series graphics cards, a 240mm AIO liquid cooler, and the latest ATX 3.0 compliant power supply unit. MSI optimized the system for better performance stability and adopted MSI's exclusive Silent Storm Cooling heat dissipation technology to ensure system stability under high load operation.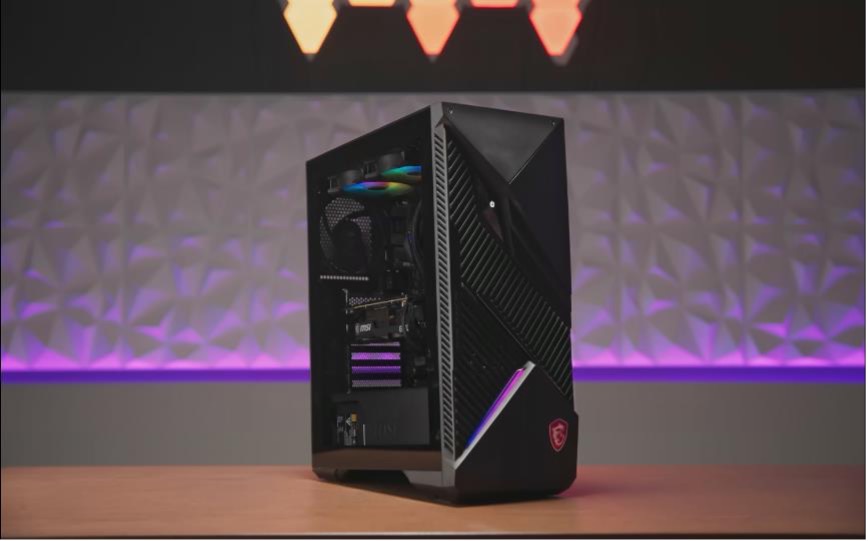 In addition to providing next-generation performance, the MPG Infinite X2 is a standard mid-tower system that is compatible with various hardware components. Its side glass panel provides EMI protection and can fully display all internal components in style.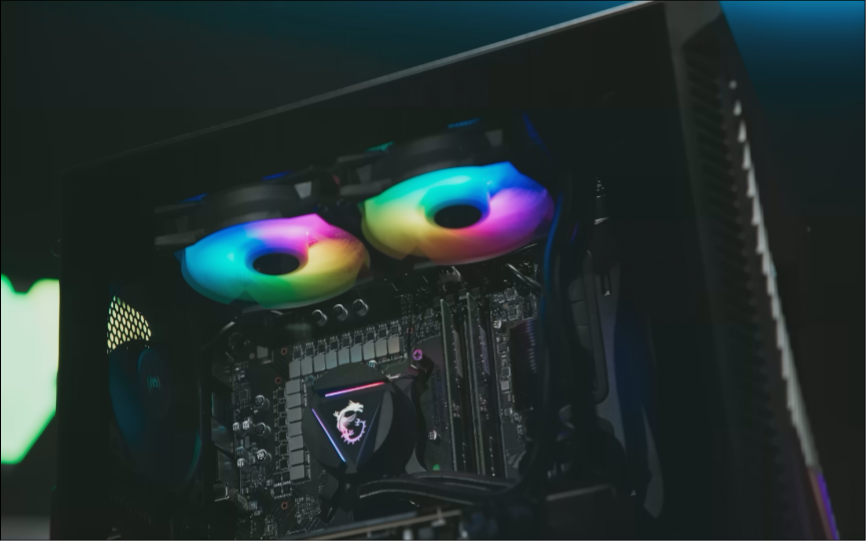 The tempered glass can be quickly unscrewed for removal via thumbscrews,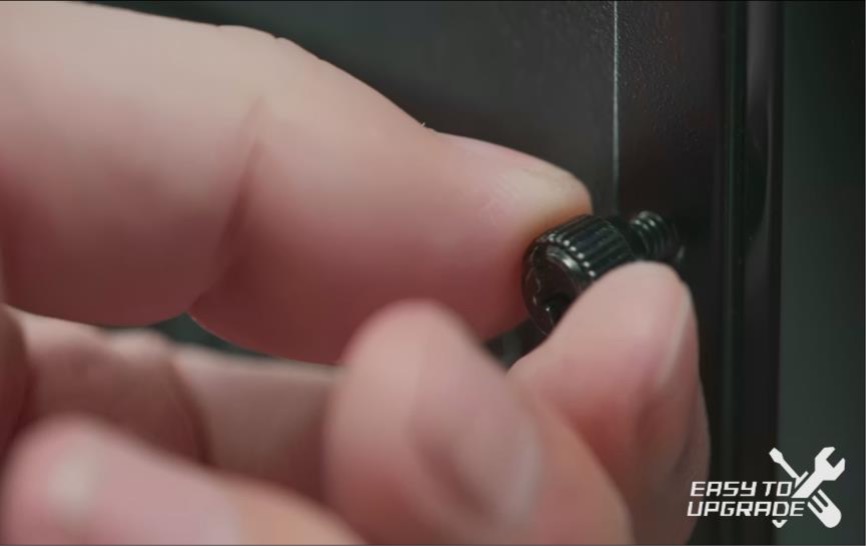 and the EZ clip makes it easy to upgrade SSD without tools. Gamers can easily upgrade to the latest hardware. MSI also included an easy-to-clean magnetic dust filter on the top of the case, which makes it easy for users to clean and maintain the stability of the system.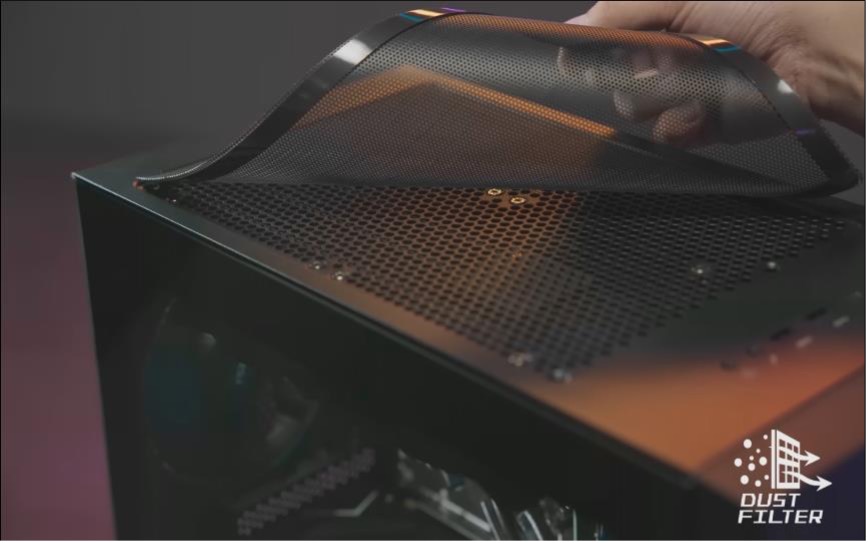 Who said games need to be played on a desk or in a room?
The Trident Series, which continues to be well-loved by many gamers, puts heavy emphasis on being compact-sized. The MPG Trident 3 and MPG Trident AS are perfect for gamers that don't want to be limited by space. In addition to having Intel® 13th Gen processors and the NVIDIA® GeForce RTX® 40 Series graphics cards, they provide an excellent cooling solution through Silent Storm Cooling. The Game Stadium, developed exclusively by MSI, is installed on the Trident Series gaming desktops. The UI of this software is specially designed for joystick control so that gamers can use the joystick to start the game and use the joystick only, skipping the need for keyboard mouse.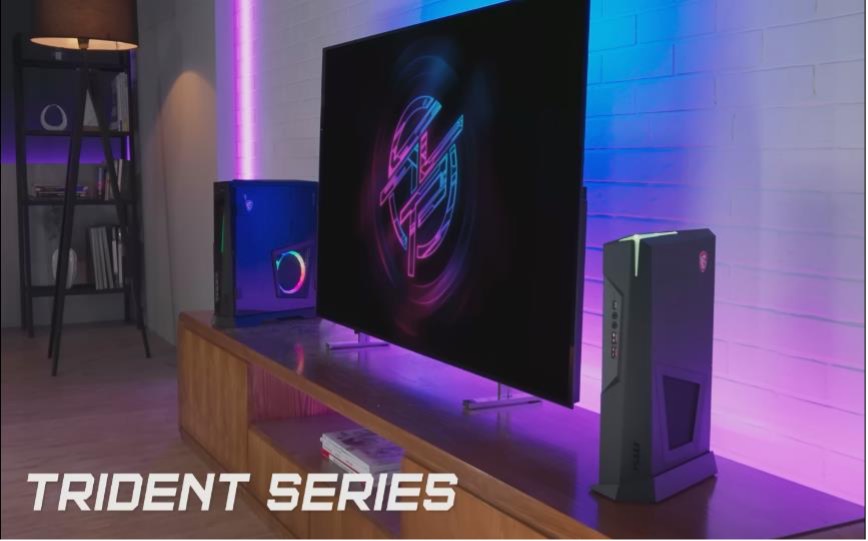 Thanks to the latest Intel® 13th Gen processor, the gaming experience had a great improvement. However, gamers still need a perfect gaming monitor to match the latest MSI Desktop line-up for next-level gaming image quality and smoothest gameplay.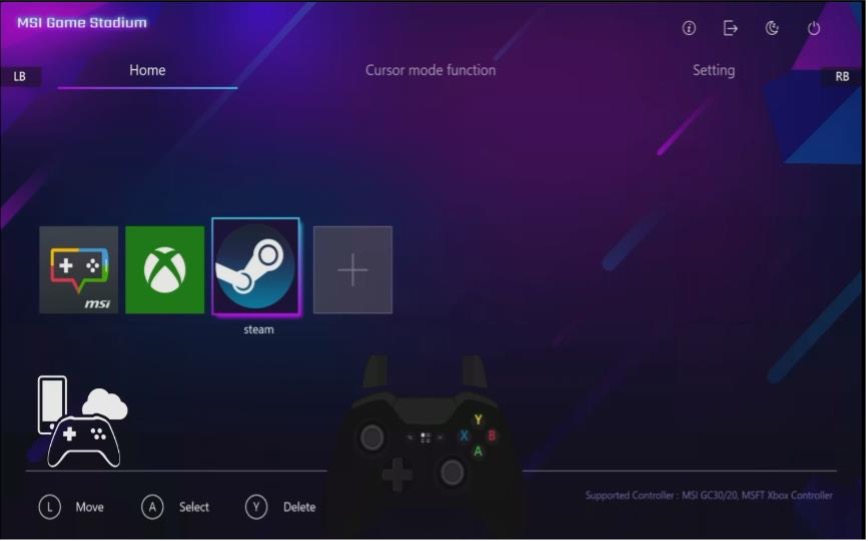 First QD-OLED Gaming monitor – MEG 342C QD-OLED
In the past few years, MSI continuously improved in the gaming monitor market and received great praise from renowned media partners and customers. MSI still keeps improving in development and is not satisfied with its current success. This time, MSI announce the latest product of MSI's well-known QD monitor series. The MEG 342C QD-OLED features the latest QD-OLED panel with ultra-fast 0.1ms GtG response and 175Hz refresh rate. Quantum Dot meets OLED technology and perfectly combines the advantages of both then brings the gaming monitor to the next level.
In addition, MEG 342C QD-OLED has a true 10-bit color depth and a wide color gamut covering 99.3% of the DCI-P3 color space. To ensure the out-of-box color accuracy, MSI pre-calibrated the monitor to make sure dE≤2 standards. This monitor supports MSI's unique Gaming Intelligence functions and can be synced with the MSI Desktop line-up for the greatest gaming experience and in-game advantages.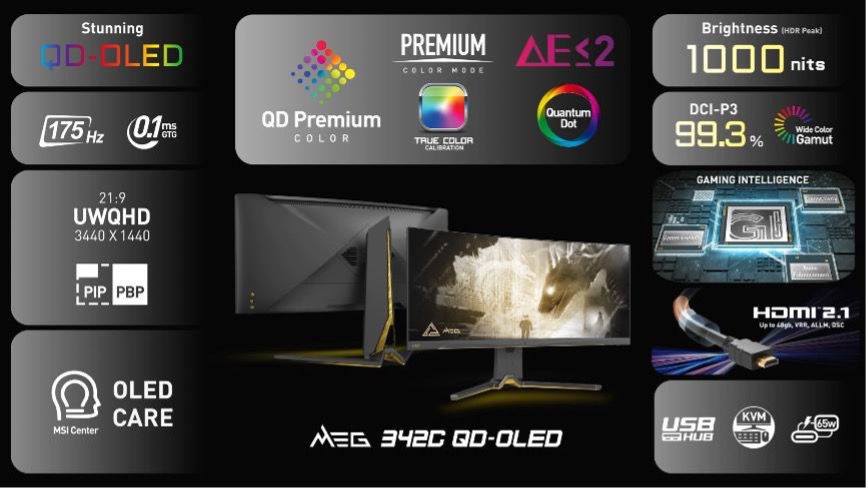 MSI Dedicated Customizable Components
MSI customization products can be found in three different segments. The MEG stands at the top with many MSI exclusive features and powerful components. MPG puts emphasis on customization and design, fully utilizing RGB lighting and other easy building features. Lastly, MAG is the epitome of being reliable and dependable, perfect for PC building new comers.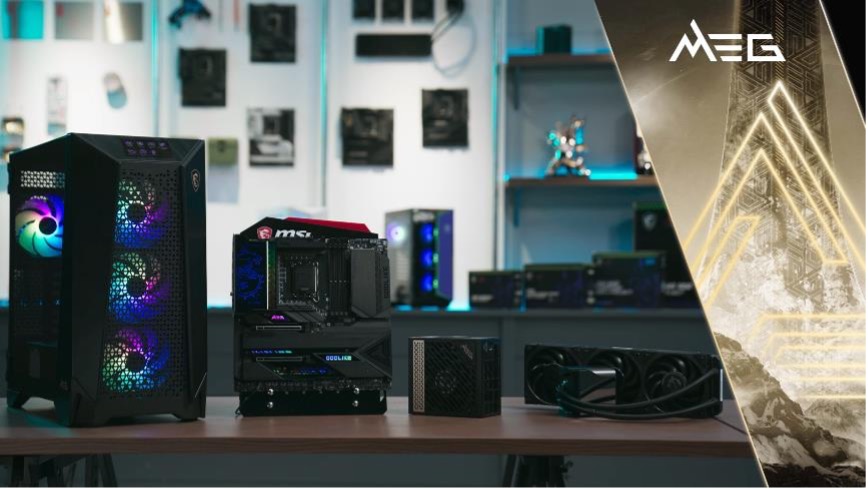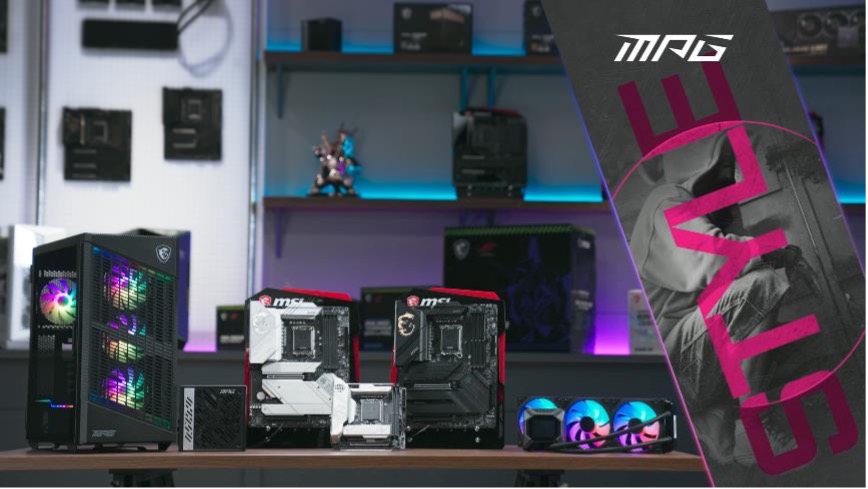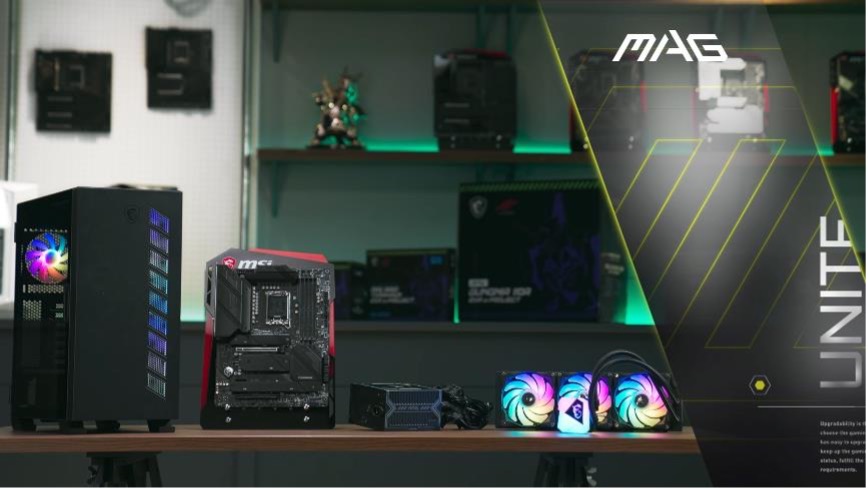 MSI is the perfect brand for DIY enthusiasts, with many powerful components and a well-established ecosystem. Specifications or appearances can be customized according to your preferences to create your one true dream machine.
Build and Customize Intel 13th Gen Gaming PCs with the Latest MSI Z790 Series Motherboards and Components
To fully satisfy all the gamers' demands, MSI launched the brand-new Z790 Series motherboards and dedicated PC components for DIY enthusiasts. The Intel 13th generation of processors and MSI Z790 motherboards fully utilize the cross-generation DDR5 memory and PCIe 5.0 signal, granting users next-gen performance and technologies.
Introducing the MSI Z790 Lineup
MSI's latest generation of Z790 gaming motherboards include MEG, MPG and MAG Series as usual. In terms of product positioning, specifications, or appearances, MSI offers everything for everyone.
MEG Z790 Series Motherboards – One Board to Rule Them All
The MEG Series features the best technologies, components, and engineering we can muster. To release the maximum performance of Intel's latest 13th generation processor, 26+2 power phases and extreme cooling module design are adopted for MEG Z790 GODLIKE. Even more, onboard 7x M.2 connectors with double-sided M.2 Shield Frozr with patented magnetic design are ready for the extreme storage performance. Last but not least, the dual Thunderbolt 4 ports, 10G Super LAN, Wi-Fi 6E and exclusive M-Vision Dashboard touchscreen makes GODLIKE a pioneer in the gaming market.
MPG Z790 Series Motherboards – Game in Style
The MPG Series is designed with an emphasis on customization, RGB lighting effects, and a unique style. The black CARBON and white EDGE are here to showcase who you really are. The onboard RGB function and the latest ARGB Gen2 headers allow gamers to personalize and express themselves. Additionally, the customizable Smart Button on MPG Z790 CARBON WIFI allows you to control a feature of choice with just a single press of a button. For gamers, the onboard Intel 2.5G LAN and Wi-Fi 6E connectivity provide the best gaming experience without compromise.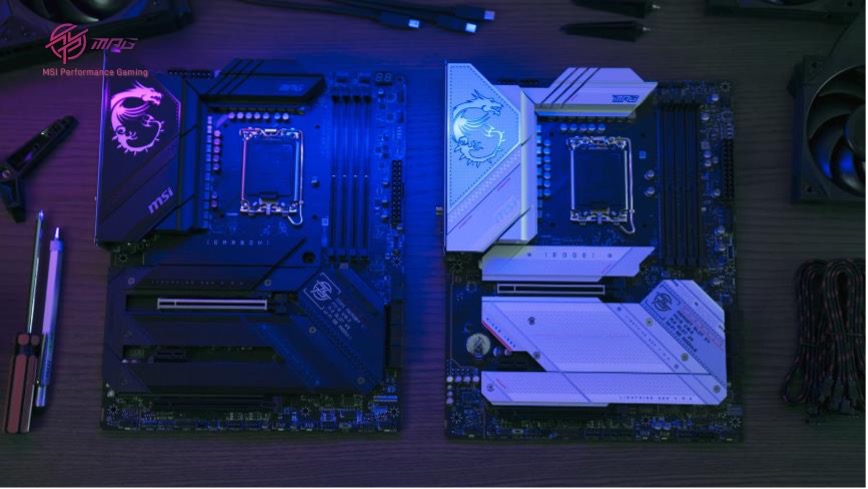 MAG Z790 Series Motherboards – Unite as One
The MAG Series is well-loved by gamers due to its uncompromised durability and stability. Simple installation process, user-friendly interface, and high-quality materials make MAG motherboards the best choice for entry-level gamers. The MAG Z790 TOMAHAWK WIFI features all metal Extended Heatsink design, all Japanese capacitors, improved layout with Server Grade and 2oz Thickened Copper PCB, providing improved heat dissipation and refined performance reliability. We also provide the DDR4 versions of the motherboards to meet the needs of all gamers.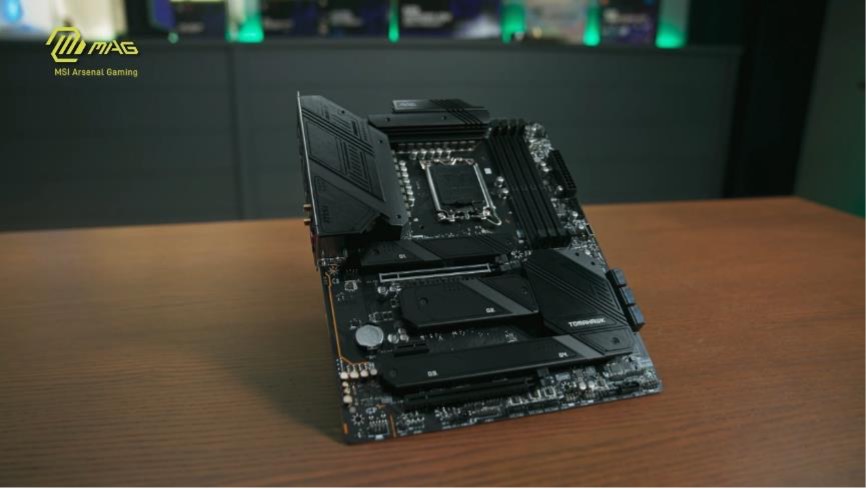 For more MSI Z790 Series motherboard information, please visit here.
MEG Ai1300P PCIE5 – Support for ATX 3.0 and PCIe Gen 5
In anticipation of the NVIDIA® GeForce RTX® 40 Series graphics cards and other high performance components, MSI is launching the all-new MEG Ai1300P PCIE5 power supply unit. It is fully ready for both ATX 3.0 and PCIe 5.0 while being 80 PLUS Platinum certified with many software integrated features. It has a native 16-pin PCIe 5.0 connector that can pipe up to 600W in power and saves the headache of needing to use adapter cables. The MEG Ai1300P PCIE5 also has a 1000W variant with identical features.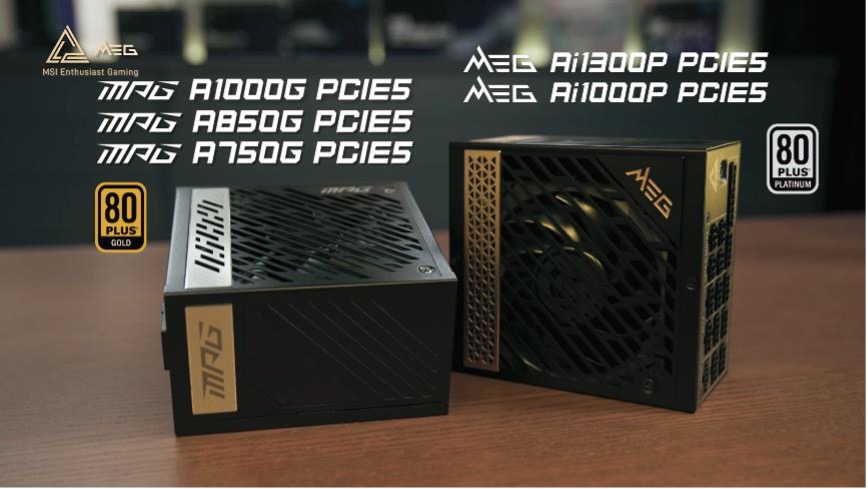 MSI is also launching the all-new MPG A1000G PCIE5 power supply unit, which is ATX 3.0 compliant and PCIe 5.0 ready. Just like the MEG Ai1300P PCIE5, it features a native 16-pin PCIe 5.0 connector. It is 80 PLUS Gold certified and has 850W and 750W variants.
MEG PROSPECT 700R & MEG CORELIQUID S360 – The Complete MEG Build
MSI's MEG customization lineup can be further completed by the MEG PROSPECT 700R PC case and MEG CORELIQUID S360 liquid cooler. Both of them feature an IPS screen that can be used to display core system information and other customizable graphics. The MEG PROSPECT 700R's big volume can fit all of your components while the MEG CORELIQUID S360 can provide the cooling needed by those components. The MEG PROSPECT 700R can fit a 360mm radiator on top or front, so the MEG CORELIQUID S360 can be mounted according to your preferences.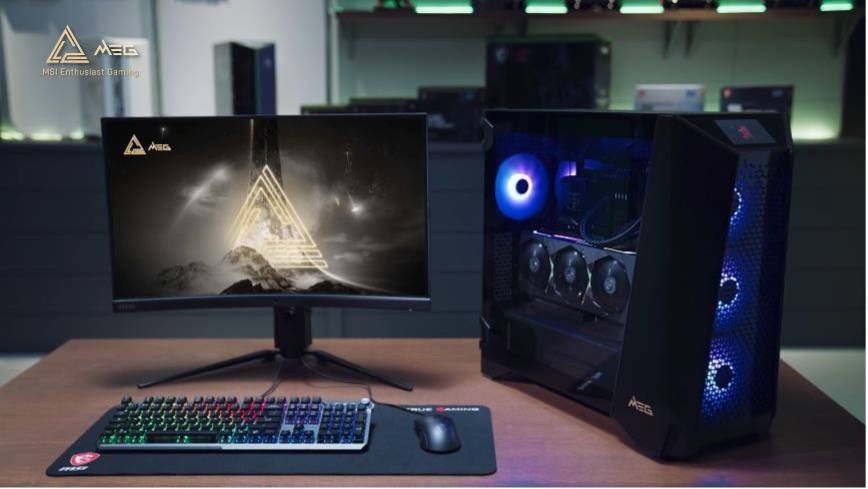 MSI Cloud Center Private Cloud App
MSI Cloud Center is a fast and secure solution for you to back up pictures on your mobile phone, avoiding the problem of the mobile phone's cloud storage running out of space. With the MSI Cloud Center, you don't have to pay an extra fee to enjoy its convenient design on your MSI All-in-One PC or selected desktops. The MSI Cloud Center allows users to back up and download photos, videos, and any other files between Android or iOS devices and selected MSI All-in-One PC or desktop.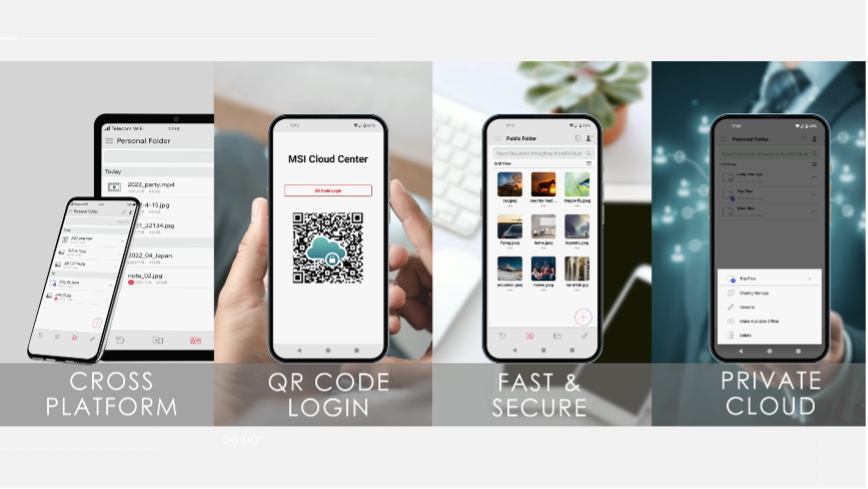 Modern AM242/ 272 All-in-one PC
With three colorways including classic black, elegant white, and ultramarine blue, the Modern AM242/272 Series can fit in nicely anywhere. Modern Series All-in-one PC's built-in FHD webcam supports Windows Hello to provide convenience and safety when logging in. Pre-installed biometrics-based Tobii Aware software is a smart feature that enables users to improve their privacy, security, productivity, and well-being. In addition, the instant display function allows you to add another monitor to improve the efficiency and flexibility of your work.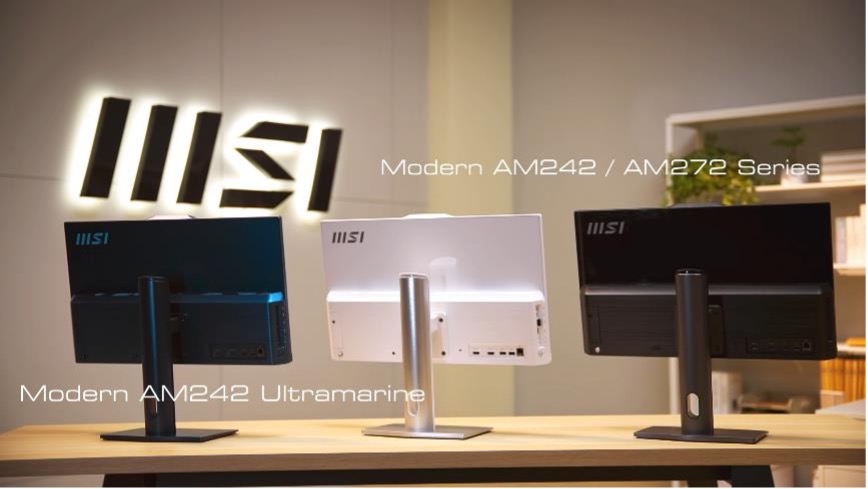 PRO DP10 Mini Desktop
Different sized desktops are created for different usages. However, the PRO DP10 is going to completely subvert your impression of a mini desktop. Though the dimension of PRO DP10 is less than 1.1 liters, its power is limitless. Featuring the latest Intel Core processors, equipped with up to 64GB memory with a dual-channel design, and Silent Pro Cooling system, it allows users to work on complex tasks while enjoying a smoother big-data analysis and reducing time wasted while working. Also, with one Thunderbolt 4, one HDMI-out, one DP-out, and one D-Sub(VGA), the PRO DP10 supports multi-tasking or data analysis with up to four displays, so users can always be productive and work efficiently.
Modern MD272 Monitor
We care about the well-being of our users, so the products feature MSI EyesErgo technology that consists of Eye-Care, and ergonomically designed hardware and software. The MSI EyesErgo technology includes hardware design such as curved panel, anti-flicker, less blue light PRO technology, and adjustable stand. It also features the ergonomic software Productivity Intelligence (P.I.), which provides smart tools, KVM function, and color & display mode to you.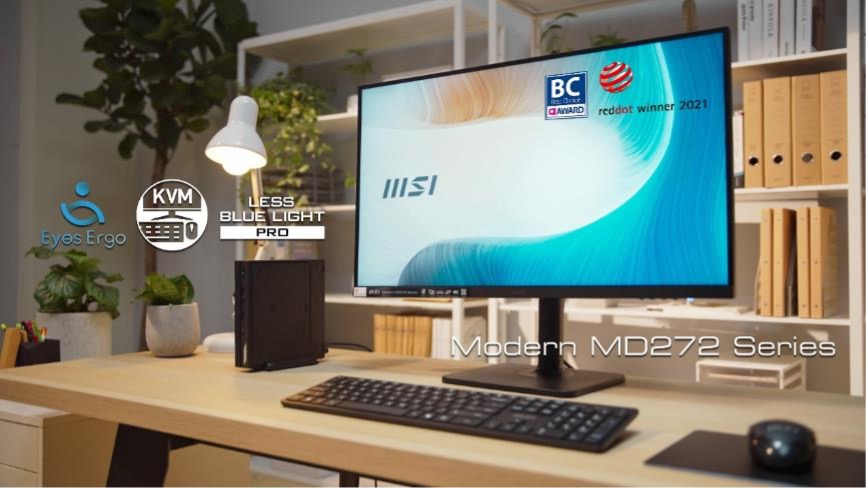 Modern MD272 Series monitor integrates computer equipment and accessories to solve the problems of users, providing users with more convenience and the ability to multitask. It won the 2021 Red Dot Design Award and the 2022 Best Choice Award with its elegant design. The KVM Switch function allows you to use multiple computers with one set of keyboard, mouse, and monitor to keep your desk tidy. TÜV certified display with Less Blue Light PRO hardware solution of blue light reduction simultaneously protects users' eyes and maintains the best colors. Furthermore, users will not have to worry about running out of battery when connecting the laptop to the Modern MD272 monitor thanks to its USB Type-C with 65W power delivery.
We hope you all enjoyed THE NEXT PLAYGROUND – REFRAMED as much as we did. All MSI products we went over either released already or will be coming to you soon. Please visit our event landing page for more information.