Biostar Releases The Latest RX 7900XT /RX 7900XTX Graphics Cards
Step Into An Unparalleled World Of 4K Gaming With Biostar Radeon RX 7900 Series Graphics Cards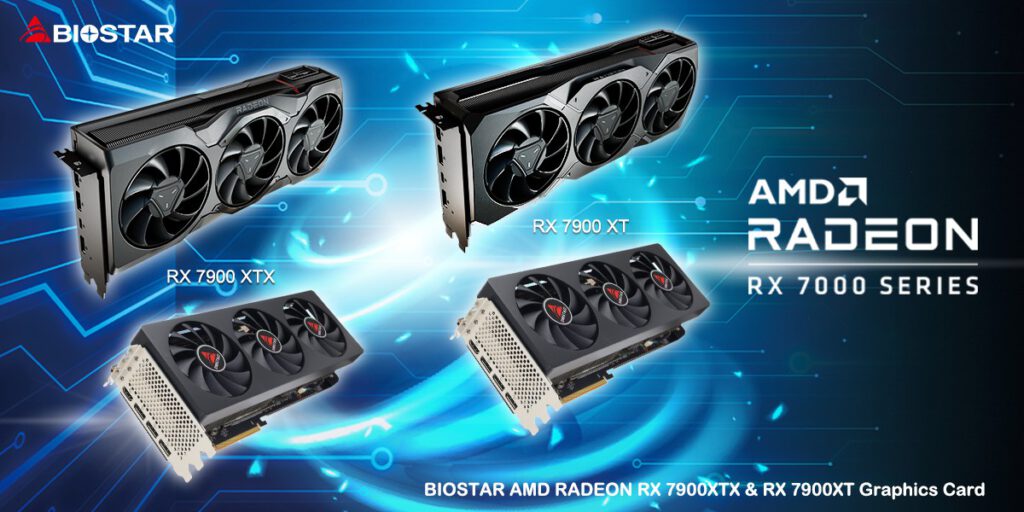 BIOSTAR, a leading manufacturer of motherboards, graphics cards, and storage devices today, is excited to unveil two brand-new Radeon RX 7900 series graphics cards.
Powered by the groundbreaking AMD RDNA™ 3 architecture, BIOSTAR's latest Radeon RX 7900XTX-24GB and RX 7900XT-20GB graphics cards deliver up to 50% more performance per watt than their previous generation RDNA™ 2 GPU units.
Featuring AMD's superior RDNA™ 3 architecture and the world's fastest interconnect technology, the all-new BIOSTAR Radeon RX 7900XTX and RX 7900XT graphics cards combine 5nm and 6nm process nodes with updated chiplets that leverage AMD's Infinity Links and high-performance fanout packaging to deliver blazingly fast 5.3TB/s bandwidth.
Unleash jaw-droppingly high frame-rates on AAA game titles with breathtaking 4K visuals powered by AMD's most advanced graphics technology with BIOSTAR's Radeon RX 7900XTX and RX 7900XT graphics cards. Ideal for gamers and content creators, they carry AMD's second-generation Infinity Cache™ technology and high-speed GDDR6 memory with up to a 384-bit memory interface.
urthermore, it also includes AMD's dedicated AI acceleration technology that delivers up to 2.7X higher performance. Second-generation ray-tracing technology provides up to 1.8X higher ray-tracing performance than AMD RDNA 2™ architecture.
BIOSTAR Radeon RX 7900 series graphics cards are designed to support DisplayPort™ 2.1 displays, delivering ultra-high framerates and stunning visuals up to 4K 480Hz and 8K 165Hz.